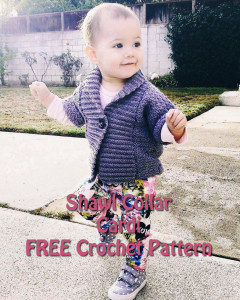 We love trying out new patterns! And as is true for most crocheters, we tend to only make things for others. That was the case with the Shawl Collar Cardigan from JoAnn. It doesn't come in adult sizes, so the first time around, I made one for my daughter Adelaide (though I really want to try and make an adult version). I used some Mill End yarn from the big bin at Jo-Ann; which is a super bummer because I LOVE this yarn so much. It looks gray indoors, but take it outside and it almost has a purple hue to it! It's some of the coolest yarn I've ever worked with. And, it's really soft. Luckily, I had a bit left over in the one pound bag and actually made myself a little something (stay tuned for that post).
This pattern is really easy to read and a great first cardi project for anyone looking to take their skills to the next level as it's worked in one piece plus the collar. The pattern is marked as advanced, but I would say it's more of an easy to intermediate pattern as the shaping is fairly simple and there are only a few stitches used. It also works up really fast, which is always a plus! Check out the details broken out below.
Once constructed, this cardi is excellent for playtime! It's 3/4 sleeves, so it works great with a long sleeve shirt when it's cooler out or with a short sleeve shirt when it's a bit warmer. Adelaide loves wearing it; mostly because she knows putting it on means she gets to go outside or walk down the street to see Hank!
Adelaide and I hope you love this pattern as much as we do!
Pattern: Shawl Colloar Cardigan by Jo-Ann Stores
Hook Used: Caspian Wood (G) Hook by KnitPicks
Yarn Used: Mill End Yarn (No other details)
Button Used: Big Basic Button by Favorite Findings
Don't forget to share your comments about and completed photos of your Shawl Collar Cardis in the comments!