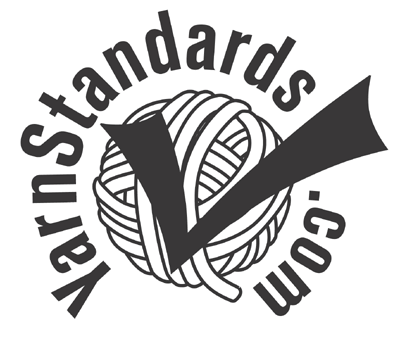 Here you will find information about yarn weight, crochet difficulty ratings, pattern abbreviations, and more! Aren't you excited? Just kidding, we all know this is the unsexy underbelly of awesome crocheted goodies. However, it is necessary and we'd love to help you out. If you have any questions that aren't answered here, you can contact us and we'll try to answer your questions.
Yarn Weight
| Symbol | Name | Best For | Recommended Hook Size | Number of Single Crochets to 4 inches |
| --- | --- | --- | --- | --- |
| | Lace | Very light and airy projects. | Steel 1.6–1.4 mm, Regular hook 2.25 mm | 32–42 double crochets* |
| | Sock/Fingering | Socks (duh), light scarves | 2.25 – 3.25mm (B-1 to E-4) | 21-32 sc |
| | Sport | Light sweaters, light tops, headbands | 2.25 — 3.5mm (E-4 to 7) | 16-20 sc |
| | DK, Light Worsted | Anything! This is a really versatile yarn. Obviously is NOT going to give you a chunky look. | 3.5 – 4.5mm (7 to I-9) | 12-17 sc |
| | Worsted | Again, almost anything! This is what 75% of craft store yarns are. (e.g. anything you can buy at Michaels or JoAnn) This is a great weight to start with and will give you a solid piece that isn't too chunky. | 5.5 – 6.5mm (I-9 to K-10.5) | 11-14 sc |
| | Bulky | Thick & chunky scarves, hats, mittens, or sweaters. This size will give you heft! It also works up into projects quickly, so you're making fun crocheted accessories in hours, not days! | 6.5 – 9.0mm (K-10.5 to M-13) | 8-11 sc |
| | Super Bulky | Thick and quick projects! Using a large hook, you can work up a trendy bulky scarf in a couple of hours! | 9.0 – 15.0mm (M-13 to Q) | 7-9 sc |
These are just guidelines! Play a bit and do lots of swatch tests. A light weight yarn worked with a large hook will give you a cool, airy open fabric while a bulky yarn worked with a smaller hook will create something more dense. Have fun!
*It's hard to get gauge on lace weight, because patterns with this type of yarn generally use lace stitches. Follow the gauge on the pattern.
For even MORE information on yarn weights, check out YarnStandards.com

Pattern Difficulty
This is one of those things that is very hard to quantify. We put these symbols on our patterns as a guide only. You know you best, and don't be afraid to try something that has a higher "difficulty" rating than what you've tried before.
| Symbol | What does that actually mean? |
| --- | --- |
| | This is your first project. It uses basic stitches and simple shapes. Think: a basic scarf, a square dishtowel, etc. |
| | Still uses basic stitches, but may make a more interesting shape or use the stitches in a new way. A hat is in this category, as is a scarf that uses simple cluster or V-Stitches. |
| | Now we get into more complicated stitches and some basic shaping. This is your first sweater or a wrap that uses a complex lace stitch pattern. Your first Tunisian crochet pattern will probably in this rating, too. If you're sick of hats, go for something in this difficulty rating! You can do it! |
| | Now we get into complex shaping, complicated stitch patterns and the really badass stuff we want to make. Close fitting sweaters and tops are in this category, as well as specialized stitches, such as the Houndstooth Tunisian stitch. It might be a challenge, but we know you can do it! Give it a shot! |
You might see something like "Advanced Beginner" or "Experience Lite" on a pattern's description on this website. It's our way of making the difficulty rating a bit more precise. It means we feel a pattern is in between 2 difficulty levels. For example, "Advanced Beginner" is somewhere between absolute beginner and the "Easy" rating. We think you could making this project with no prior experience, but it's going to be somewhat more of a challenge than just a simple square dishcloth. If you have questions, you can ALWAYS email us if you're not sure.
Hooks
Crocheters get very excited and particular about their hooks. It is your main tool, and what you choose is very personal.
There are tons of place you can get hooks. Michael's and JoAnn Craft both have decent selections of hooks, though they usually only carry aluminium or plastic hooks in "standard" sizes (B-K). Recently, however, we've noticed a better selection of hook sizes. In fact, we saw a size S hook (a whopping 35mm!) at Michael's just recently.
Micha uses the Caspian wood interchangeable hook set from KnitPicks for almost every project, Tunisian or regular. She loves the feel of wood hooks. (That's what she said.)
Devon uses the Amour set from KnitPicks for her non-Tunisian crochet projects because she loves how the yarn slides on aluminium and the colorful grips, which offer her added stability for long crochet sessions. (Also what she said.) She uses the Caspian wood interchangeable hook set for Tunisian projects.
Those are not your only options, though! Hooks come in a variety of materials, colors, sizes and grips. Maybe you want a huge grip for control or the give of a more slender grip. (Seriously, these "that's what she said" jokes write themselves.) Try a couple of different types before committing to an entire set of one type. (Also, different projects might be more comfortable with a different hook type. Experiment!)
If you need help picking a hook, ask someone at a local yarn shop. We've found them to be great resources, and, unfortunately, the employees at larger chain craft stores don't tend to have as much information on different hooks. That's not to say they won't know, but don't go in expecting a ton of additional information. You can also email us with questions – we LOVE to talk shop.
Pattern Abbreviations
This is not an exhaustive list, and all pattern makers use slightly different wording and abbreviations. These are the ones we use most often. You can find a longer list at YarnStandards.com
| Symbol | Description |
| --- | --- |
| [] | Work instructions inside of the brackets as many times as directed. |
| * * | Repeat instructions between the asterisks as many times as directed. |
| approx | approximately |
| beg | begin/beginning |
| BPdc | back post double crochet |
| BPtr | back post treble crochet |
| CC | contrasting color |
| ch | chain stitch |
| ch- | refers to chain or space previously made (example: ch-2 space) |
| ch-sp | chain space |
| dc | double crochet |
| dc2tog | double crochet 2 stitches together |
| dec | decrease |
| dtr | double treble |
| FPdc | front post double crochet |
| FPtr | front post treble crochet |
| hdc | half double crochet |
| inc | increase |
| lp(s) | loop(s) |
| MC | main color |
| oz | ounce(s) |
| pm | place marker |
| prev | previous |
| rem | remaining |
| rep | repeat |
| rnd(s) | round(s) |
| RS | right side |
| sc | single crochet |
| sc2tog | single crochet 2 stitches together |
| sk | skip |
| sl st | slip stitch |
| sp(s) | space(s) |
| st(s) | stitch(es) |
| tch | turning chain |
| tr | treble crochet |
| WS | wrong side |
| yd(s) | yard(s) |
| yo | yarn over |