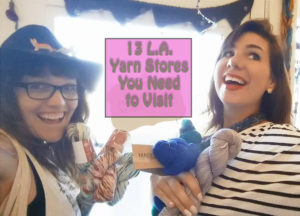 Devon and I participated in the LA Yarn Crawl 2016 over the weekend. We visited 12 local yarn stores and one yarn truck over 3 days; two of which were with one year olds! We had an absolute blast and are so looking forward to doing it again next year even though we're exhausted. Below is a recap, including all of the stores we visited (in order from first visit to last).
Scroll down for a special LIMITED TIME special offer on our most popular yarn: The Dark Swan from the Once Upon a Storybrooke collection. Restrictions do apply, of course. So be sure to check out all of the information at the bottom of the blog.
-Micha
Micha's text appears below in MAUVE
Devon's text appears below in PURPLE
A-Major-Knitwork
Day 1.
The first store we hit and our introduction to the LA Yarn Crawl. This mother/daughter owned establishment actually turned out to be one of our favorite stores! The ladies were so welcoming and they were even playing a fun game of LYS Bingo for everyone who came through the door (fingers crossed Devon finds herself the winner of their super awesome granny bag). This store has a nice selection of yarns and is located in the San Fernando Valley just off the 405 in Van Nuys. They host a stitch and bitch on Tuesdays and Thursday (check for hours), and have an awesome selection of buttons. I'm salivating just thinking about the buttons! The store is priced as to be expected for a LYS with specialty yarns; not to pricey and not cheap. But let's not forget, good yarn is not cheap and cheap yarn is not good. That said, Devon and I are still fans of cheap yarn! What? It's okay to like it all!
This shop was so great. It was a great first stop for our very first Yarn Crawl. First of all, I LOVE LOVE LOVE bingo. The fact that they were doing a little Yarn Crawl-themed bingo game tickled me pink. (Yes, I am an old lady living in Palm Springs). It was a fun introduction to the whole experience. The best part of this shop was definitely the women working there. They were knowledgeable, friendly and professional. They were happy to answer our questions about the Yarn Crawl and their wonderful and varied selection of yarn.
Check out their website: amajorknitwork.com
The Yarnover Truck
Day 1.
You absolutely read that right. There's a yarn truck in California! Even better, we found out while visiting that it used to be a Little Debbie's truck. They were even handing out Little Debbie's Swiss Rolls; my favorite. Not a huge selection of yarns, but much more than I had expected in such a small space. Their featured yarn, CoBaSi (Cotton, Bamboo, Silk), was some of the squishiest we found on the crawl. And we all know how much I love a squishy yarn! I walked away with a couple hanks in black and purple, as well as an official Yarnover Truck tape measure. Because you can never have too many tape measures. Pricing was fairly reasonable, with lots of color options available. As if the idea of a yarn truck wasn't already the best thing you'd heard all day, the ladies of the truck are planning to host a Stitch & Pitch at three local(ish) baseball stadiums this summer. You best believe you'll find me rooting on my boys in blue while stitching away at the game on August 12th!
My husband Alex was actually the first person to tell me about this wonderful God-send called a MOBILE YARN TRUCK. Apparently it parks outside of his favorite bar the first Wednesday of every month. I was sad I had missed it for April, so I was thrilled to see it outside of The Altered Stitch. While I was making my purchase at the truck, (one of my favorite finds of the whole weekend, by the way – Metalico in Opal, a silk/alpaca blend fingering weight yarn in a perfect cream neutral color that I could talk about for 5 hours) I straight up asked them what I had to do to get them to come park in front of my house every day forever. Fortunately for my bank account, they very gently told me that that would be a terrible business move for them. I am just a happier person knowing there is a truck full of scrumptious, squishy yarn driving around Los Angeles. It's comforting. Like, somewhere, right now, someone's day is better because they are shopping in a truck full of yarn. And that, my friends, is a beautiful thing.
Check out their website: yarnovertruck.com
The Altered Stitch
Day 1.
The Altered Stitch is the hip place to buy yarn in the San Fernando Valley. Previously The Stitch Cafe, owner Leah Davidson changed the name when she took over the shop in 2014. Parking is available in the lot out back; which for me is a god send! They also have a back entrance you can use to access the store instead of walking all the way around. The store had a TON of Madeline Tosh's yarn, and they featured The Flying Kettle for the Crawl. Pricing was a bit higher in comparison to other SFV LYS, but the vibe at this shop cannot be beat! It's the hip, fun, bright and energetic yarn store us youngsters were looking for. If the yarn is out of your price range, grab your hook (or needles) and head over just to hang out with your WIPs. You may even get a chance to meet one of the three shop doggies while you're there!
Micha's right, The Altered Stitch is hip. Almost as hip as the hat she wore on Saturday. (I'm kidding; nothing is as hip as Micha's felt hipster hat.) This was not my first time in this particular LYS. I had previously been there to purchase some yarn for a special sweater I made for myself for my birthday. Because they choose to only carry very high end yarn, the price point is a little beyond what I want to spend for an every day project. However, there is no better place to go if you need the highest quality, most beautiful yarns on the market. The staff is incredibly helpful, and are always ready to give recommendations or just talk yarn with you. They have lots of the yarn worked up into swatches (sometimes you have to ask them to pull them out), which can be very helpful in picking a yarn to use for a specific project. They also have lots of cool and more difficult to come by tools, such as lucets and stitch count rulers.
Check out their website: thealteredstitch.com
La Knitterie Parisian
Day 2.
Now this is a yarn store! I was blown away the second I walked in. I was greeted by owner Edith Eig, who was eager to show me around. She and her husband run the store, and are there to answer any questions you may have. I should also state right off the bat that this is a knitter's store. While their site does say they will offer complimentary knitting & crochet lessons (with the purchase of yarn from their store), it was very clear that they only wanted to talk about knitting. That's fine and dandy, but I prefer my crochet hooks to my knitting needles and will gladly convert their knit patterns to Tunisian crochet. Okay, now that that is out of the way….I cannot wait to go back to this store! They had some amazing South American yarn that was all died with natural colors. Think fruit, vegetable and beetle dyes. Of course, I'm blanking on the name, but I believe it's the only one they carry from South America with natural dyes. The prices are super reasonable, but you have to ask since pricing is not labeled on anything in the store. The store is also baby friendly, a HUGE plus for us moms. I totally plan to go back soon and grab some yarn and just hang out with Edith and her family!
Ah, La Knitterie Parisian. This store has a very special place in my heart. My first LYS. My husband and I walked into this store almost 3 years ago. I was looking for some nice yarn with which to make myself a maternity sweater, and Alex was trying to look as ungrumpy as possible while his pregnant wife shopped. However, the good part of this story is what happened when the owner, Edith, started talking to Alex and convinced him that she could teach him how to knit. So, she did. Right there, in the middle of the store. And Alex was very good at it; annoyingly so. So good that he went back to La Knitterie every Saturday for their stitch and bitch for several months. The women there ate him up, nice Jewish boy that he is. Micha is right: they definitely want to talk about knitting, but their yarn selection is unmatched in all of the LYS we visited over the weekend. They LOVE yarn and yarn craft there, and are there to help. If you are looking for a good first LYS, La Knitterie is great resource.
Check out their website: laknitterieparisienne.com
Creative Ewe
Day 2.
Disclaimer: I didn't get to play around in this store as much as I would have liked because there was another customer there with a dog. She would not allow anyone to touch said dog; including my one year old (cue screaming fit NOW). So, I plan to go back in the near future sans woman with dog.
Now, the good stuff: The store is tucked away North of us in Canyon Country. But it is so worth the drive! When I first walked in, my first thought was "I already love this store!" Every single person was so nice and accommodating. They have an amazing selection of specialty yarns at very reasonable pricing. Even better, you can purchase their yarn supply from the online store (see link below). And the owner is my kind of guy. He hid small knit animals all around the store in hard to find places. If you found one, you got a prize! I was so bummed my one year old wouldn't allow me to really get into the groove and look high and low for those critters, but she was distracted by…wait, why is another customer's dog sitting in the middle of the floor again unattended (clearly I'm still bitter about the dog taking away my time to really check out the yarn in this store)? In the end, I left with a mystery pack and got the coolest handspun yarn at a pretty hefty discount!
My biggest complaint about this store was the location. It's definitely too far to make it our "home" store, so to speak, but I would definitely make the trip again back to this store. Their prices were fantastic, the selection was great and the owner and the people working there were helpful and friendly. It doesn't get much better for a LYS. Also, as Micha mentioned they have a really cool "mystery box" that comes with luxury yarn at a discount. I love a good grab bag (see: being an old lady living in Palm Springs) so I jumped at the opportunity to really stretch my creative muscles with some yarn that I didn't get to pick out. I ended up with some absolutely gorgeous blush pink yarn and a great pattern to use it to make a sweater. Sadly, they only offer knitting patterns in their mystery boxes, and I would love to see a crochet option. That said, I thoroughly enjoyed our trip out to Canyon Country and look forward to going back.
Check out their website: creativeewe.co
Zoe's Knit Studio
Day 2.
Finally, a store full of crocheters!!! It was the answer to our crochet needs. While the store itself is clearly setup for knitters, all of the ladies we met preferred crochet. And perfect too, because it's not too far of a drive from S&W headquarters. Just up the 101 in Tarzana. Another family friendly store, the ladies here entertained our two kiddos while Devon and I looked around and geeked out on just about every yarn they had in stock. Talk about fun options! And they had a half off sales rack! Devon and I both walked away with a few skeins to add to our yarn stash and plans to come hang out again at Zoe's real soon. And the best part you ask? They had yarn bombed the three rocks that sit just outside their door, and Saturday & Sunday had a woman in the store dressed up as a skein of yarn. I mean, please….&, thank you!
If you're interested in taking a crochet class, be sure to check out Zoe's Knit Studio website below. They offer an array of both knit and crochet classes for the beginner and up. They'll even schedule private lessons if you're interested!
One of the women who worked at this store sat down on the floor with Hank and Adelaide and played trains with them! I open with this because I could not be more grateful for the time to really look around this gem of a store. They had some beautiful yarn, and at all price points. They also offered all sorts of pattern books for crocheters, which is somewhat of a rarity in the LYS world. As Micha said, this was definitely a store full of crocheters and we were so happy to see that. I bought a ton of yarn and a pattern for a dress that I am so excited to make up.
Check out their website: zoesknitstudio.com
Jennifer Knits
Day 3.
And, we're definitely on the Westside! I have to say, I had major sticker shock when we walked into this store. And it would continue into just about every other store we'd go into on the Westside of Los Angeles. Now don't get me wrong, I like a good Alpaca and am willing to pay for it. But things, in general (not just for yarn), get a little pricey when you go over the hill.
Jennifer Knits is tucked away in a cute little alcove just off of Barrington on Barrington Walk. The store is the size to be expected of a LYS, and the lighting is perfect for selfies (see below). They had some really cute bags available for purchase as well as a nice selection of yarns. Other than that, nothing stood out too much. But, it was a super cute area, and I'd likely go back, grab a cup of coffee at the shop next door and work on a project while getting to know the shop employees since we didn't stay too long at this location or make any purchases. Be sure to take a glance at their website. They have a section of free patterns, which at a glance look like all knit. But, you can always convert to Tunisian Crochet if you feel so inclined.
I'm with Micha on Westside sticker shock. While the store was definitely adorable and felt very hip, the prices were just too high in comparison to our LYS. While there were a lot of different yarns available, I wasn't drawn to any of them. That's not to say this isn't a place worth visiting, it just wasn't for me.
Check out their website: jenniferknits.com
Compatto Yarn Salon
Day 3.
This store was adorable! Located on Wilshire, if you blink, you might miss it as there is a lot going on in the Compatto neighborhood. I also am a big fan of this store because Compatto is Italian….like this girl right here! What does it mean you ask? It means "compact." Which the store translates to mean their "close-knit" community of fibre enthusiasts. How cute is that? I love it! Not to mention, their stitch & bitch area has lounge chairs and couches tucked away in a cozy corner in the back with a coffee maker. Couch, coffee and crochet. Three of my favorite things! I picked up a nifty new crochet hook that looks more like a wand right from Hogwarts. I was so excited, I got home that evening and started whipping something up with my new Celestial Yarns find (story about that yarn coming).
I really liked this store. It was our second stop on the Westside, and it was so cozy. It was also on the pricier side, and I didn't purchase any yarn here. However, like Micha, I bought a great crochet hook. I did not buy the Harry Potter-wand hook, but instead went for an aluminum hook with a funky ergonomic grip. (Just another example of how different people like wildly different hooks!) I had to try it out that night, and it was a dream to crochet with. I could definitely see us coming back here and spending some quality time in their stitch & bitch area.
Check out their website: compattoyarnsalon.com
Wildfiber Studio
Day 3.
What a store! This place, situated in Santa Monica, is HUGE!!! There were greeters at the door welcoming us to the studio. I'm not sure if this is a regular thing, but I loved it! It was a nice touch. The ceiling is wood beams, which just adds to the low key vibe in this store. It was a little overwhelming just because there was so much space! I didn't even get a chance to see everything (mostly because it was lunch time and I was eager to get food). I was very excited to meet and speak with Annie who was spinning up a beauty of a yarn on behalf of the Los Angeles Spinning Guild. She inspired Devon and I to learn how to spin, s stay tuned for posts on how that turns out for us. Definitely need to come back to this store soon to do more looking around. It is on the Westside, so expect to pay a premium for their yarn. Like many of the other shops, Wildfiber does offer classes with info available on their website (link below). What you will find on their site that most stores don't offer is a complete online shop! Love that!
Holy square footage, Batman! I was blown away at the sheer size of this place. Most LYS are on the small side, and 3 (or more!) "standard" LYS could have easily fit in this one. It's a place to get lost in. Even their website is huge! They had tons and tons of yarn, hooks, needles, kits, notions and pattern books everywhere you looked. It was yarn crafting heaven. They even had a woman spinning yarn in one corner! We decided while we were there that we needed to learn how to spin yarn immediately. It was beautiful to watch. I could spend some serious time here and definitely want to come back with an afternoon to browse.
Check out their website: wildfiberstudio.com
The Knitting Tree
Day 3.
Of all the stores we visited, this seemed to be crawler's favorite! The store was packed the entire time we were there; and we were there for a long time. The vibe here is just so cool! All of the employees seem like they're having so much fun. They have a wonderful selection of yarns, and owners Bruce and Annette Blair are very knowledgeable about each one. One of the coolest things we saw at this store was the worked up yarn samples. There were all kinds of samples throughout the store showing the difference between a brands cloud and regular yarn, etc. This can be super helpful when trying to decide which yarn to use for a project as you never know what it will really look like until it's worked up. I snagged the most beautiful alpaca/wool blend from Peru, which is already on its was to becoming a gorgeous cowl.
This store was definitely the highlight of the crawl for us. While we were checking out, Angela Rick of Celestial Strings Yarns showed up to help with door prize giveaways and say hello to folks. I recogized her as soon as she walked in as I am a big fan of her yarns. I was introduced to them when they were available at Gather, but was so bummed when they stopped carrying them. The three of us hit it off instantly and spent the next hour chatting yarn, horses, cats, dogs, gaming and science! We look forward to hosting Angela at an upcoming S&W stitch and bitch.
I was so excited to visit this place. They just looked like a bucket of fun, and they were. One male employee was wearing a button that said "Men K2!" and that made me spectacularly happy. The place was packed (and I get the feeling they are always busy) and stuffed to the gills with beautiful, unique and lust-worthy yarn. I found some luxuriously chunky bamboo yarn in lime green that I didn't know how badly I needed in my life until I saw it. This place was the kind of yarn store I would want to own myself. This was also where we got to meet Angela of Celestial Strings Yarn, and boy, was my mind blown. A fellow yarn dyer, crocheter and Warcraft nerd. We spent almost an hour talking about crochet and yarn colorways and video games and space cats. I'm pretty sure I met my soulmate (jk – Micha is my soulmate).
Check out their website: theknittingtreela.com
Twist, Yarns of Intrigue
Day 3.
Don't blink, or you might miss this one. Situated close to the ocean shore off of Sepulveda Blvd, Twist is an interesting store. Definitely one of a kind in Los Angeles. Twist sells, well, Twist yarns. Most of the yarns hare hand-painted, and they have every fibre and color combo you could dream up! They offer all of their yarn for sale online (link below), with prices ranging from reasonable to pricey. The ladies in the store were very accommodating, but I have to say that this store left us feeling like, "What just happened?" I wish I could explain it better than that, but I just can't. I'm not sure I would return, but it was definitely worth checking out.
This was a sweet little yarn shop in Manhattan Beach. What I didn't realize when we walked in, was that they sell mostly yarn that they make themselves. That definitely made them stand out from the other LYS we visited. The selection was great, but because their inventory skewed towards their own yarns, they didn't have as many of the "standard" yarns that you would expect to find at a LYS. This was a shop that didn't really jump out at me. Nothing drew me in.
Check out their website: twistyarns.com
Gather DTLA
Day 3.
Gather was my first LYS and will always hold a special place in my heart. It's a little nook of a store with a giant table situated right in the middle. The ladies are very nice and always willing to chat about yarn. Gather is where I was introduced to the world of hand-dyed yarns, as I'm pretty sure that is all they offer. Hand-dyed yarns do come at a premium, so expect to pay $20 on average per skein here. But also know that you're supporting (mostly) local indie dyers at the same time. One such indie dyer, who happened to be at the store, was Erica of In the Deep Hue Sea. I've been obsessed with her yarn since I discovered it about a year ago. It was love at first hue. Gather is definitely the place to go to find the best selection of Erica's yarn in Los Angeles. If you're in Orange County, she also has yarns available at a few shops out that way (look for a blog post about OC stores in the coming months). So, if you're Downtown, looking for a good book and a nice hand-dyed yarn, stop by Gather in The Last Bookstore. Also, be sure to check out the book tunnel upstairs in the labyrinth and the old bank vault full of horror books!
Side note: getting a big bag of WIPs into The Last Bookstore can prove difficult as they as you to check all bags at the door. Let them know that you are headed to the yarn store and the bag is your yarn stash, etc. Just be sure not to bring any books in with you or you may get charged for them again upon leaving the bookstore.
The best part about Gather DTLA is the location: in the heart of downtown on the second floor of The Last Bookstore, right next to avant garde art galleries and weird little shops. It was the smallest shop we visited, with the most limited selection. The prices are also steep, both because of the types of yarn they stock and because of where they are. That said, Gather is worth visiting. They carry local indie yarn lines and limited run colorways that you can't find anywhere else. We got to meet another indie dyer, Erica of In the Deep Hue Sea, and she was so fantastic. Last time I was at Gather I bought the ONLY 2 skeins of one of her very limited run colorways, and I am happy to report that the rest of her yarn is just as drool-worthy.
Check out their website: togatherdtla.com
The Little Knittery
Day 3.
Situated in the uber cute Atwater Village, this has got to be one of my favorite stores! As you walk into the store, there's a table right there as if it's begging you to sit down for awhile, hang out and stitch away. When Devon and I first arrived, we were greeted with a smile and warm welcome from one of the store's regulars. She told us all about the store, best area parking and the shop's yarns as we watched her weave up her next project. My wallet was hurting at this point in the crawl, so I did not end up purchasing anything, but the prices were reasonable. The thing I loved about this shop was that they had some really fun yarn options and had a lot of projects worked up using the various yarns around the shop. They also sell an extra-extra-large pom pom maker! Think little bush maker. The thing is HUGE. Devon and I were ready to purchase one of our own, but the ladies in line before us snagged the last two. Dang it! The Little Knittery doesn't have an official stitch and bitch, but encourages you to come and hang out anytime the shop is open. They also offer classes available for purchase right from their website (see link below).
I love Atwater Village, and I was excited visit The Little Knittery for the first time! As Micha mentioned, this place is as cozy as it gets. The center of the shop is occupied by a large dining room style table that made it feel like I walked into the craft room of my favorite aunt. The welcome was warm, the yarn was gorgeous, prices were fair, and everyone was friendly. You can't ask for much more from a LYS. The Little Knittery was the perfect place to end the crawl, as it was everything I love about local yarn shops: good people, beautiful yarn, and the feeling of community. They invited us back to craft and hang out, and I think I'm going to take them up on their offer.
Check out their website: thelittleknittery.com
Yarn Crawl Featured Yarn


Stitches & Woes Special Offer

For a limited time, get 15% off our best selling yarn: The Black Swan from the Once Upon a Storybrooke line.
Use code SwanCrawl before midnight PST on April 27, 2016 during checkout to redeem your special offer.